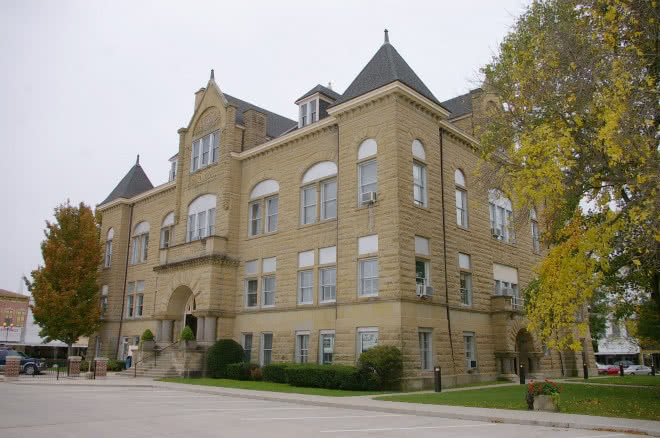 Fire destroyed the courthouse April 12, 1865, and the county remained without a courthouse for 30 years. For many of these years, the public square was known as the "Park." An illustration from the atlas of 1876 shows a portion of the square filled with a geometric pattern of trees. The third and present Adair County courthouse dates from the turn of the century.
As Adair Countians contemplated a new courthouse, some proposed a different location where only one main facade would be necessary. This would reduce construction costs considerably and leave the square for a public park. But, in April 1896 the people voted to put the building on the square.
Adair County's courthouse was to measure 112 feet, 10 inches by 85 feet, and was to rise to a height of 139 feet. The foundation, of concrete and Quincy limestone, was laid in hydraulic cement; the outer walls were of sandstone, and stone-arched entrances rested on granite columns. Granolithic and tile floors were supported by a steel and concrete foundation. Metal stairways had birch handrails. There was a copper cornice and a slate roof. All construction was fireproof; there were six fireproof vaults. The building was lighted by electricity, heated by steam, and featured 'sanitary sewage,' a technological improvement much appreciated by those familiar with the privy on the square.
In spite of earlier rain and the threat of continued bad weather, cornerstone ceremonies for the Adair County courthouse, held May 2, 1898, attracted a crowd estimated at 15,000.
After being without a courthouse for so many years, Adair County had felt the sting of ridicule from her sister counties. Finally, when county officials occupied the building March 31, 1899, Adair County could boast about having the best courthouse in the northeast part of the state. This courthouse is now included in the National Register of Historic Places.